At Brandkarma, we are creative. We are calculating. And what we find cool are the drugs, biologics, devices, diagnostics, etc. that change the way we care for peoples' health. Pharma isn't for everyone, but it's what we love! Here is why:
I like working in pharma because…
…it requires you to use both sides of the brain, which has its own fair share of challenges. I'm also attracted to the overly competitive market – the people are smart and the products are smart; they keep you on your feet.
Ashley Smith, Business Development Specialist
…it is rooted in facts and figures (i.e., truth), yet we can create campaigns that are more captivating than something completely fabricated just to make sales.
Jami Crabtree, Senior Account Executive
…this industry is always evolving and changing and that is both exciting and challenging.
Allison Magrogan, Human Resources Manager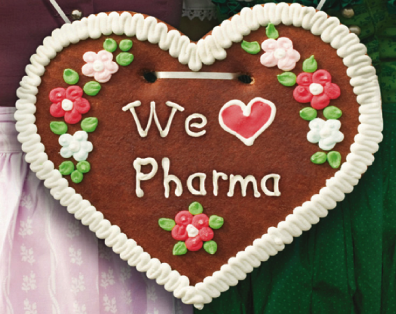 Image Source: Chronicle.com
…I want to make a difference. Even if it is a small contribution to helping people know what is at their fingertips, it's one step closer to being in the right direction.
Anna Eliopoulos, Senior Account Executive
…it promotes something that can really improve someone's quality of life.
Jeff Werner, Interactive Art Director
…it deals with issues that pertain to us and/or those around us. And we have an opportunity to help get that message across seamlessly.
Lyndi Parrett, Senior Art Director
…I like being in an environment where we are privy to information concerning the latest up-and-coming technology and treatments in the health industry.
Shelby Woods, Senior Executive Assistant
…I have always loved science and medicine, where incredible discoveries and advancements improve health and change lives every day, and that is very exciting to me.
Diana Lee, Account Executive
…when I can see my loved ones using the products I promote, I feel that I personally have improved their lives and am able to offer information about the drug that I wouldn't otherwise know.
Angela Medina, Account Supervisor
…it is a future-proof industry.
Holger Meier, Web Programmer
…it's challenging!
Talia Hubbard, Project Manager
…it truly represents the opportunity to affect lives and engages consumers with their most significant concerns.
Neil Horowitz, Social Media Marketing Analyst
…we make a difference in people's lives, improving health and happiness.
Erin Shepard, Interactive Specialist
…it's a nice blend of science with creativity.
Maryanne Kelleher, Vice President, Account Group Supervisor
…having worked in this industry for 15+ years, I still find myself learning something new.
AND
…it gives me an excuse to drink more coffee!
Wendy Wittkofski, Editorial Supervisor
…I like learning about medical conditions/treatments that I wouldn't otherwise study so closely.
Lindsey Trella, Senior Designer
…it's the closest thing I'll ever be to a doctor.
David Cho, Senior Art Director
…it is like a second family – dysfunctional, but we still all love each other and stand by each other's sides.
Candice Scaltro, Office and Accountant Assistant
…I love being on the forefront of knowing the latest and greatest going on with healthcare and to be able to help people and make a difference!
Mandy Graziani, Marketing and Media Manager/Account Executive
…although we market something that comes in a bottle, a gel, or a powder, our messages give hope. Hope that people – parents, spouses, or children – will feel better.  And giving hope is priceless!
Nisha Shah, Media Planner
…I get to find the person that uses their talent to create the ad that grabs the attention of the doctor, who prescribes the medication to the patient and improves their life in a way that they otherwise would not have known was possible.
Ashley Lundquist, Recruiter
We love working in pharma for a lot of reasons. What is yours? (Tell us in the comments!)
______________________________________________________________
Subscribe to the blog
Connect with Brandkarma on LinkedIn  Facebook  Twitter 
About Brandkarma
Offering healthcare companies the highest level of strategic and creative marketing for specialty pharmaceutical and biotech products, medical devices, diagnostics, and OTC brands, Brandkarma is a champion of intense engagement, measuring its achievements by its clients' success.
Visit the Brandkarma website or Contact Us or Request an RFP
RELATED TOPICS

Ken is a great deal more than just the president of a medical communications company. He is something of a hybrid. He's part marketing manager, part creative director, and part copywriter. To the chagrin of his peers—but to the delight of his clients—Ken is a consummate perfectionist. As a former creative director for a high-end consumer agency, he challenged his creative teams to go beyond the mundane to produce work with real creative impact, something he's just as fervent about today. From producing and directing TV commercials, to launching DTC and Rx-to-OTC switches, Ken brings his clients a world of experience in OTC pharmaceuticals as well as business, lifestyle, and high-end consumer products and services. Whether huddled with clients behind a mirror in a market research center in Houston, facilitating a strategic workshop in Madrid, or developing a global campaign either in the New Jersey or California office, Ken is always fully engaged, bringing "bestness" to all areas of his hectic but full life.