Always a great listen for pharma marketers, John Mack's (aka Pharmaguy) Pharma Marketing Talk podcast recently featured a conversation with Dyan Bryson, Vice President of Patient Enablement Services at Indegene Lifesystems Pvt. Ltd. and Managing Director at Inspired Health Strategies, LLC, about what it will take for the pharmaceutical industry to become more "patient-centric" and the benefits for pharma and patients.
The interview discussed the need for (and benefits from) pharma taking a more patient-centric strategic view at every level of product development and marketing, as well as the notion of reaching and influencing patients (and their values) beyond the doctor's office. The full 30-minute podcast is worth a listen for any pharma marketer, but here are some of the highlights from Ms. Bryson:
On what it means to be "patient-centric":
"[Pharma must] understand the user experience and what is important to the person using the medications —  their culture, what is happening in their community influencing their decisions. Patient-centric is to be where the patient is; not so much where the prescription decision is being made, but where their life decisions are being made."
"If we put the patients at the center of our decision, the prospects will follow. It has to happen at launch, at R&D, [throughout]. We have to understand patient needs from the very beginning. It improves adherence, health outcomes, and the bottom line."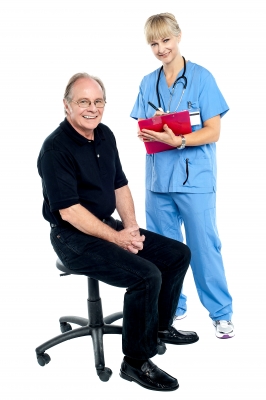 On navigating the regulatory hurdles of an increased relationship between pharma and patients:
"We have focused [too much] on the transaction, the prescription, and the distribution…[But] if we think in terms of needs of the patient, you can work with internal regulatory to figure out how you can do anything to support the patient in their decisions and their needs."
"It also depends on the culture of the company. There are some that won't take any risk at all…and there are others willing to take the risk."
On optimizing and simplifying where and how patients are reached:
"If we can develop surround sound and reach patients where we don't normally reach them —  their family, their community, etc. — then you're getting the volume you need and the impetus to help patients make decisions that will be good for their own health."
"If we create systems that reach patients, that reach people, in their time [outside of the doctor's office], then we will create that influence we want that will help adherence and overall outcomes."
"There are a set of health belief models that dissect how we make decisions around our health. We make decisions around the values we hold. If we're going to influence a patient decision, we first have to understand their values and influence them based on those values."
On understanding how patients find and consume information:
"People do learn differently. That's where multichannel marketing comes in. You set up systems to support people in ways that they'll grasp the information. It's multifocal. Once patients make that [health] decision, we do need information to understand that better. It requires [continuous] information and it has to be reinforced through our values, our community."
"It has to be more than once, in a way you can understand it, and health-literate."
On the need to be involved in patient communities, to whatever degree possible:
"How could you not listen? Even in market research. Companies have depended on the agency to interpret the market research and are missing out on the nuances. There are opportunities [to be involved] that aren't risky. Just listening."
"The tone is changing to: we're going to go beyond the prescription and look at the outcome to understand what happens to [and what influences] the prescription after it is written."
______________________________________________________
Subscribe to the blog
Connect with Brandkarma on LinkedIn  Facebook  Twitter 
About Brandkarma
Offering healthcare companies the highest level of strategic and creative marketing for specialty pharmaceutical and biotech products, medical devices, diagnostics, and OTC brands, Brandkarma is a champion of intense engagement, measuring its achievements by its clients' success.
Visit the Brandkarma website or Contact Us or Request an RFP
RELATED TOPICS

Ken is a great deal more than just the president of a medical communications company. He is something of a hybrid. He's part marketing manager, part creative director, and part copywriter. To the chagrin of his peers—but to the delight of his clients—Ken is a consummate perfectionist. As a former creative director for a high-end consumer agency, he challenged his creative teams to go beyond the mundane to produce work with real creative impact, something he's just as fervent about today. From producing and directing TV commercials, to launching DTC and Rx-to-OTC switches, Ken brings his clients a world of experience in OTC pharmaceuticals as well as business, lifestyle, and high-end consumer products and services. Whether huddled with clients behind a mirror in a market research center in Houston, facilitating a strategic workshop in Madrid, or developing a global campaign either in the New Jersey or California office, Ken is always fully engaged, bringing "bestness" to all areas of his hectic but full life.